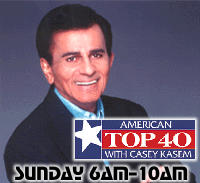 This is my AT40 page. Here I list all the American/Casey's top 40 countdowns I have. Listed below are most of them, more will be added. Casey no longer does AT40, Ryan Seacrest has taken over, never the less, I still have more to add here so check back soon
The Download buttons no longer work an are only for you, an me, to reference which shows I downloaded from the web. Downloads were in mp3. (OA) Means off-air, w/ the station noted beside.
This is my Top40 Chart Archive
Back to my collection
Related "other shows"
The I-heart radio Top 50 of 2019
The Remix TOp 30 of 2019
The I-heart radio Top 50 of 2018
B-101.5's Top 25 of 2018
The Remix Top 30 of 2018
The I-heart radio Top 100 of 2017
The Remix TOp 30 of 2017
The Daly Download Top 60 HotAc of 2017
94.7 Fresh Fm's Fresh 40 of 2017
The I-heart radio Top 100 of 2016
The Remix Top 30 of 2016
The Daly Download TOp 60 HotAc of 2016
The I-heart radio Top 100 of 2015
The Daly Download Top 60 HotAc of 2015
The Remix Top 30 of 2015
The I-heart radio Top 100 of 2014 (partial)
The I-heart radio Top 100 of 2013 (partial)
The Daly Download top 60 HotAc of 2013
Z-100's TOp 100 of 2012
Z-100's TOp 100 of 2011 (partial)





Top 40 of 2019
12/14/19
9/14/19
7/14/19
11/25/19
Top 40 of 2018
8/4/18 (partial)
5/5/18 (partial)
Top 40 of 2017
11/25/17
7/22/17
4/8/17
2/4/17
Top 40 of 2016
12/11/16
7/9/16
4/16/16
Top 40 of 2015
12/?/15
9/13/15
Top 40 of 2014
8/24/14
4/20/14
Top 40 of 2013
8/24/13
7/6/13 (partial)
4/20/13 (parcial)
4/6/13 (partial)
Top 40 of 2012
12/8/12 (partial)
8/18/12 (partial)
Top 40 of 2011
Top 40 of 2010
7/4/10 (The 40th Aniversary Special)
Top 40 of the 2000's
Top 100 of 2009
Top 100 of 2008
AT-20's Top 60 of 2008
Top 100 of 2007
AT-20's Top 60 of 2007
American Top 10 - AT-10's Long distance dedication special: 2/10/07
AT-20's Top 60 of 2006 part I
1/3/04


Top 100 of 2003
11/22/03
10/25/03
8/23/03


6/28/03
3/1/03


2/15/03
Top 100 of 2002
11/23/02
9/7/02


7/6/02


4/13/02


Top 100 of 2001
7/14/01


2/10/01


Top 100 of 2000
12/9/00


6/10/00


3/4/00


1/?/00
1/8/00


Top 50 of the 1990's
Top 50 of 1999
12/?/99
11/20/99


Top 100 of 1998
3/28/98 (AT40)


3/21/98 (CT40)


Top 100 of 1997
2/15/97


The top 20 song of the Top100 of 1996 (CT40)
10/26/96
9/1/96 (top20 only)
8/26/95
Top100 of 1994 (CT40)
9/4/93 (CT40)
Top100 of 1992 (AT40) & (CT40)
2/29/92 (CT40)
2/8/92 (CT40)
3/30/91 (AT40)
2/2/91 (AT40)
Top 100 of 1990 (CT40)
12/22/90 (AT40)
8/25/90 (AT40)
4/14/90 (AT40)
4/14/90 (CT40)


2/17/90 (CT40)
Top 40 songs of the 1980s (CT40)
Top40 of 1989 (CT40)
Top 40 Million sellers of the 80s (CT40)
10/7/89(CT40)
8/19/89(CT40)
7/1/89

(CT40)
6/17/89

(CT40)
6/3/89 (CT40)
5/13/89 (CT40)
3/25/89 (CT40)
2/5/89 (CT40)


1/21/89 (CT40)
12/17/88
8/6/88 (OA) Jack
7/23/88 (OA) Jack
7/16/88 (OA) Jack
7/9/88 (OA) WGRQ
6/25/88 (OA) WINC
6/18/88 (OA) Jack
6/11/88 (1st 2 hours only)
6/4/88 (OA) Jack
5/28/88 (OA) Jack(Top 40 newcomers of the 80s)
5/21/88 (OA) WGRQ
5/14/88 (OA) Jack
4/30/88 (OA) WINC
4/23/88 (OA) WINC
4/9/88 (flashback)+Jack(VHS) & XM
3/26/88 (OA) Lite97.5
3/19/88 (OA) Jack
3/5/88 (OA) Jack(VHS)
2/27/88 (OA) WINC
2/20/88 (OA) WINC
2/13/88
2/6/88
1/30/88 (OA) WINC
1/23/88 (OA) Jack
Top 100 songs of 1987
12/26/87 (XM)
12/19/87
11/28/87 (OA) Mix107.7
11/21/87 (OA) Mix107.7
11/14/87 (OA) WINC
11/7/87 (OA) WINC
10/31/87 (XM)
10/17/87 (OA) WINC+Jack+WASH
10/10/87 (OA) (Top20 only) Jack?
10/3/87 (OA) WINC+Jack
9/26/87 (OA) Jack
9/19/87 (OA) WINC
8/29/87
8/22/87 (OA) Jack
8/15/87 (OA) Jack
8/8/87 (flashback)
7/25/87 (OA) WGRQ
7/11/87


7/4/87 (XM)(starts @ #35)
7/4/87Top 40 of the 80's so far (OA) WINC
6/20/87 (hour 3 mostly missing) (OA) Jack
6/13/87 (XM)
6/6/87
5/30/87
5/23/87 (flashback)
5/16/87 (OA) WGRQ
5/9/87 (flashback)+1sthr (OA) Jack
4/25/87 (OA) Jack
4/18/87 (XM)
4/11/87 (OA) Lite97.5
3/28/87 (flashback) WASH
3/21/87 (OA) Jack
3/14/87 (OA) WINC
2/21/87 (OA) Jack
2/14/87 (OA) WINC
2/7/87 (flashback)+Jack
1/17/87 (OA) WINC
Top 100 of 1986 (OA) Jack
12/6/86 (parts are from XM) (OA) WINC
11/22/86 (OA) JACK
11/15/86 (OA) WINC+Mix107.7
11/8/86(Off air except: Top 10 from XM?) (OA) WINC+WGRQ
10/25/86 (OA) Jack
10/11/86 (OA) WINC
10/4/86 (OA) WINC
9/26/86 (2 hour an 1/2 of 3rd hour only)
9/20/86 (OA)
9/13/86 (missed start/end +parts of HR3) (OA) Jack
9/6/86 (OA) WGRQ
8/30/86 (XM?)
8/16/86 (OA) WGRQ (missing hr1)
8/2/86 (OA) Jack
7/19/86 (flashback) (OA) WASH+Jack
7/12/86 (OA) WGRQ
6/28/86
6/21/86 (OA) Jack (top20 only)
6/14/86 (OA) WGRQ (#40-#21 only)
6/7/86 WGRQ+XM(VHS)(missing some of this show, maybe?)
5/31/86 (OA) Jack (start only)
5/24/86 (OA) WGRQ
5/17/86 (OA) Jack
5/3/86 (flashback)+WINC
4/26/86
4/19/86
4/5/86 (OA) WINC
3/22/86 (OA) Jack
3/15/86 (top 20 only)Lite97.5
3/8/86 (OA) Jack
2/15/86
2/1/86 (OA) WINC
1/25/86 (OA) Jack
1/18/86 (OA) WINC(flashback)
Top 100 of 1985 (OA) WINC
12/7/85
11/16/85 (flashback)+Jack+WGRQ
11/9/85 (flashback)+WINC
10/19/85 (OA) WINC
9/28/85 (OA) Jack
9/14/85 (OA) WINC(dead dog dedication)
9/7/85 (OA) WGRQ
8/31/85 (OA) WGRQ
8/17/85 (XM)
8/3/85 (OA) Jack
7/20/85
7/13/85 (OA) Jack
6/22/85 (OA) Jack
6/15/85 (OA) WGRQ
6/8/85 (flashback)
5/18/85 (OA) Jack
5/11/85 (OA) WINC
4/27/85 (XM)
4/20/85 (OA) Jack
3/30/85 (OA) Jack
3/23/85 (top 20 only)(OA) Lite97.5
3/16/85 (missing end of hr 3, all of hr 4 cept #1 (OA) Jack)
2/23/85 (OA) Mix107.7
2/16/85 (OA) WGRQ
2/9/85 (OA) WINC
2/2/85 (OA) Jack
1/26/85 (OA) WINC
Top 100 of 1984
12/22/84 (OA) Jack
12/1/84
11/24/84 (OA) Mix107.7+WGRQ
11/17/84 (OA) Mix107.7
10/20/84 (OA) WGRQ
10/13/84 (OA) WINC
10/6/84 (OA) Jack-x2
9/29/84 (XM)
9/22/84 (OA) WINC
9/8/84 (flashback)
8/18/84 (OA) Mix107.7
8/11/84 (OA) Jack
8/4/84 (flashback)
7/28/84 (OA) Jack
7/21/84 (OA) WINC+Mix107.7
7/7/84 (OA) WINC
6/30/84 (OA) Jack [#24-#8 only]
6/23/84 (OA) Jack
6/16/84 (OA) WINC
6/9/84 (XM)(VHS)
4/21/84 (OA) Jack
4/14/84
3/31/84 (OA) Jack
3/24/84 (OA) WINC
2/25/84
2/18/84 (OA) Jack
2/4/84 (OA) Jack
1/28/84 (OA) WINC
Top 100 of 1983 Part II (Top 50) (OA WGRQ)
9/17/83 (XM)
8/3/83 (XM)
9/18/82 (XM)
9/26/81 (XM)
12/13/80 (XM)


11/1/80 (XM)


7/10/71
AT40 shows on XM
AT40 shows on FM