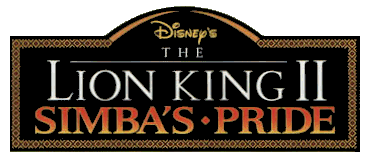 ---
[Last modified: Tuesday, Dec. 09, 2008 - 21:25]
Released direct to video on
October 27, 1998
in the U.S. and
March 1, 1999
in Europe, the sequel to
The Lion King
is now available for all TLK fans to enjoy.
Plot synopsis
as reported in the Disney Catalog:
"The Lion King 2: Simba's Pride, Disney's sequel to The Lion King, continues the saga of Simba as he teaches his daughter, Kiara, the meaning of the Circle of Life. The adventure begins when Kiara sneaks away from he inept baby sitters Timon and Pumbaa, and ends up in the forbidden Outlands. Zira, former mate of Scar, spies Kiara playing with a cub named Kovu. The tale unfolds as Kiara and Kovu fall in love and battle the forces of evil and take their place alongside Simba and Nala in the Pride Lands."
More plot info
, from material accompanying SP merchandise:
"As a dark storm brews over the Savannah, the mystical Rafiki communicates with the spirit of Mufasa. We learn that after becoming king, Simba exiled all lions loyal to Scar to the desolate Outlands. A dangerous rift has developed between Simba's Pride and these Outlanders, led by Scar's murderous widow Zira. Rafiki learns that only one lion can heal this wound-- Simba's newborn daughter, Kiara...

"Following her heart, Kiara runs away from Pride Rock to join Kovu in the wild, hoping to find a place far away where they can be together. At night Kiara is visited by the spirit of Mufasa, who reminds Kiara of her obligation to her pride and her role in the circle of life. Kiara convinces Kovu that they must return to Pride Rock. Thier love is the only chance to stop the destructive war..."
And finally, a complete plot synopsis from the Simba's Pride storybook by Golden Books, summarized by Margaret Petrie.
Details on casting are still based on hearsay, but the following list will be updated as new information becomes available:
Simba:
Matthew Broderick
Cam Clarke (singing)
Nala:
Moira Kelly
Young Kiara:
Michelle Horn
Charity Sanoy (singing)
Adult Kiara:
Neve Campbell
Liz Calloway (singing)
Young Kovu:
Meaning: "Scar"
Ryan O'Donahue
Adult Kovu:
Jason Marsden
Gene Miller (singing)
Timon:
Nathan Lane
Pumbaa:
Ernie Sabella
Zazu:
Edward Hibbert
Rafiki:
Robert Guillaume
Zira:
Meaning: Hate
Suzanne Pleshette
Young Vitani:
Lacey Chabert
Crysta Macalush (singing)
Adult Vitani:
Jennifer Lien
Nuka:
Meaning: Smell, stink
Andy Dick
Meanings thanks to Rob Hillman.
---
The Simba's Pride Script
This is an
unofficial script
transcribed by Brian Tiemann. It contains the complete movie as released on video, as well as scenes which were cut from the final version before release.
---
Simba's Pride Images

Adult Kovu (1996)
This is a scan from a Disney TV Animation brochure scanned and provided by
Anthony
. This same piece of concept art was in use at the March 1996 ASIFA Animation Expo, so Kovu's model has changed since then.
This image has been inverted and digitally manipulated to make the picture more visible.

"We Are One" Wallpaper
1024x768
or
800x600
wallpaper made up of images from the "We Are One" trailer. Composed by
Andy
.


"Outlanders" Pics
Scanned by
Margaret Petrie
from a recently released
Simba's Pride
storybook; these pictures show Nuka and Vitani, as well as Zira.

Golden Books Storybook Cover
The cover from the Golden storybook mentioned above, also scanned by Margaret.

McDonald's Merchandise Poster
From
LiLKovu@aol.com
; this shows all the upcoming
Simba's Pride
toys coming to McDonald's at the same time as the release of the video.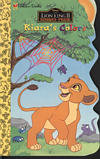 "Kiara's Colors" Cover
Also from
LiLKovu@aol.com
, a scan of the cover to another of the Golden Books based on SP.


Coloring Book Pictures
More contributions from Margaret Petrie. These are images scanned from a new
Simba's Pride
coloring book available in supermarkets and bookstores.





Mouseworks Storybook Scans
Contributed by
Janet Gilbert
; these are scanned from the new Mouseworks storybook that has just been released (as of Sept. 10).




"Come Out and Play" Cover
Also scanned by Janet Gilbert; the cover from another of the Golden storybooks.

"Return to Pride Rock" CD Cover
Contributed by
Blue Lion
. This is the album cover for the new "Return to Pride Rock" CD.

Simba's Pride "Gamebreak" Cover
Contributed by Janet Gilbert. This is the cover from the "Gamebreak" box.

Disney Catalog Cover
From
NalanKiara
, with an improved version from
Crassus
; the new Disney Catalog cover, featuring Kovu and Kiara.

Disney Adventures Cover
This is a scan of the
Disney Adventures
November 1998 issue, featuring
Simba's Pride
(naturally!). Scanned by
Michael Ponce
.


Preorder Lithograph and Cover
Scanned and submitted by several people independently over the past couple of months; these scans are from Crassus. This lithograph and its envelope were distributed with preorders of
Simba's Pride
.

Simba's Pride Wallpaper
Also from Crassus, this is wallpaper based on the Lithograph envelope art (above). Available in
1024x768
or
800x600
.


Lucky Charms SP Book
Meerkat Lupe
sends these scans from a SP book found in a box of Lucky Charms. There is the cover art as well as two stickers from inside. Kiara has five legs. Cool! :) (
Here's why
; thanks to Emma V. and Meerkat Lupe.)

Kiara Morph
This is a morph animation done by
James Topp
; it shows Kiara at the end of TLK morphing into the Kiara at the beginning of SP. Available in a large (8MB) form (
QuickTime
/
AVI
) or a small (1.3MB) one (
QuickTime
/
AVI
).


Australian Disney Adventures
Exodus
contributes these scans from the Australian version of
Disney Adventures
magazine, which has different content down under. SP was animated there!



Kovu and Kiara at Play
Colored by
Candy
.

DA SP Game Ad, and Video Promotional Materials
From
Brenden T.
; the first picture here is of an ad in
Disney Adventures
for the new SP video game. The other three pictures are scanned from a promotional booklet for the SP video. Warning-- they're
big!




Kovu & Kiara Chocolate Bar
From
Kelvin Low
; this is the wrapper from a candy bar currently sold in New Zealand.

Simba & Nala Christmas Ornament
Contributed by
Anthony Lehman
: a scan of a Christmas ornament, featuring Simba and Nala, but still being billed as from Simba's Pride.


SP Activity Book Covers
Contributed by
Kelvin Low
: scans from the newly arrived (March 20) SP activity books in Singapore.
---
Simba's Pride Links
---
Trailers and Previews:
Many thanks for
Raccoon Prince
,
Prowl
,
Aaron McGavock
, and
Blue Lion
for their help in capturing the multimedia!
---
Other Media: