About me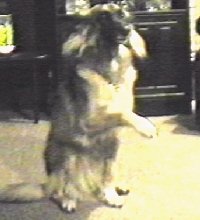 They say I was born around March of 1993. No one seems to know for sure, but when my roommate, Kelly, picked me up from the SPCA in Newmarket, Ontario (near Toronto), they told her I was 7 months old, and that was in September. They also tell me I'm a mix of a Border Collie, a Shepperd, and a whole slew of other stuff.

So, how did a great dog like me end up at the SPCA, you ask? Well, I don't really talk about it much. I used to have a home with another family, and it seemed that someone was always mad at me for something, and I was often being hit. After that, I spent a couple of months at the SPCA. There were so many other dogs there, I began to think no one would ever want me, as I was kind of underweight and mangy looking at the time. When Kelly came through, I made sure I was the loudest dog there, which isn't very much like me. But sure enough, I caught her attention, and a few hours later, I was in my new home.

It took me a few months to get accustomed to my new home. At first, I was very shy, and pretty boney. In the beginning, I managed to get yelled at quite a fair amount, but I was no longer being hit, and I soon realized I didn't have to cower in the corner everytime someone was mad at me. With time, Kelly and I learned how to live with eachother without getting in the other's way. But now thats all behind me. I've gained weight, I'm more confident, and I'm definitely happier than I would have thought possible in the first 7 months of my life. And now, I'm even on the net, and I love it!


Stuff to see
I really don't have too much stuff yet, but I'm always looking for more!

My Picture Album (Split into three chapters)
Some of my favorite links

Drool - This is neat. It lets you see what it's like to be just a pup!
Mutts Unofficial homepage! - This comic by Patrick McDonnell is the coolest. The cat and dog you see to the left are Mooch (the cat) and Earl (the dog). Aren't they cute?
Freaks! - It seems a group of freaks have gotten into the habit of causing a commotion on IRC. This is their web page. They're freakish, but its all harmless fun.

More technical stuff

My Geek Code
Rich started bothering me about some kind of "Geek Code" a little while ago, and he absolutely insisted that I create my own geek code, so here it is:

-----BEGIN GEEK CODE BLOCK-----
Version: 3.1
G! !d s--: a----- C- UB E---- W++>+++ b-- G-- e-- h-- !r
------END GEEK CODE BLOCK------
And here's what it means