Andnowforthepart that iscalledMYHOMEPAGE! =)

"JAMMET IN HIS TREE" or "Ooh, you can fly to me??" =) wonderfully painted by Unicorn '98

Hej there, here is Jammet meowing, may I have your attention please? =) Would you like to get me know some? The picture to the left, that is me! It was drawn by UNICORN in the year 1998, and for all the effort he put into it, I feel so honored,loved, so joyful and thankful! Thank you, Unicorn, for this wonderful painting!!!
I love animation, I am a great fan of all the animated movies, I am a little bit of animation, and in my dreams and fantasy world, you are animation like me, like everyone, everything. I'm very playful, I love to be creative and enjoy everything to the most! Inventing new games all the time in the online worlds as well, this is what I truly am! A Leopard, and as of now, a Cub!!
If you had trouble trying to understand anything of what I said until here, you probably don't know me or are not familiar with the kind of online world I live in, but don't worry, just continue reading =). Scroll down!
"Jammet - a leopard cub" by Unicorn 1998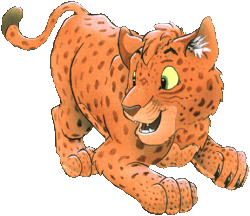 Love to Unicorn, who created this painting for me... =) Meowww! Right now there isn't all that much to read about myself here, but don't be sad,please ask me if you really really need some info quick... If you came lookingfor OOC info, numbers and address and the like, I am going to put info right here (still html-ing this page).By the way, I am writing my Lion King MUCK story andneed the permissions from the characters I know to let them show up in my story. Please write me. Even if you are not on the muck anymore (I miss you).Be SURE to send me any hints/ideas that you have for your characters in my story.If you want them to do something (special), tell me that, I see if I can handleall that =). Scroll down for more =).
---
Ti
d
b
i
ts
Character & real name:
JAMMET

Human onlyname:=)

David Mehrmann

Age:

one year, three months

Age:

twentyfive years (birthday January 26th 1976)

Funstuff:

friends, play, swim, hyper =), hunt, run, dream, snuggle, see/smell/feel/touch great experiences, learn!

Funstuff:

Same as In Character + meow =), write, read, draw, music, sing along.

Plan:

protect family, friends, kingdom, future. Love all good, believe in all good, do all good.Play all things that are fun =), and make us all real happy! =)

Plan:

Same as In Character (change Kingdom for nature and animal kingdom) + support global and peaceful thinking, live a great and beautiful life - and give to others.

DisLikes:

Bad, violent and mean beings, prejustice, spicky plants, itch, bugs, boredom.

Dislikes:

The way many humans treat animals (or each other), loneliness, real bad & mean behaviour.